Chiropractor in Rexburg
Supporting Our Community
Since 2016, Summit Spine and Sport Chiropractic has been providing outstanding chiropractic care. Both Dr. Arritt and Dr. Thompson grew up in Rexburg, and they are passionate about caring for people in the community they love. In addition, we participate in the "Give Back Movement," supporting various local charities, and Dr. Thompson volunteers as a team trainer for Madison High School wrestling teams.
We Love Caring for Families
We are a true family practice, helping everyone from newborns through the elderly feel better and find lasting wellness.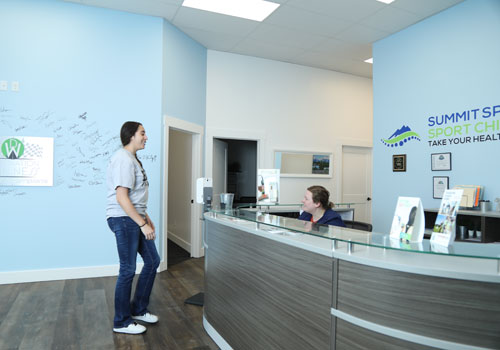 We offer a variety of adjusting techniques, which we tailor to each patient's specific needs. Patients may receive different techniques to help them reach their goals most efficiently. Adjustments for babies are different from adults, and Dr. Arritt and Dr. Thompson have years of experience providing safe, gentle adjustments for kids and pregnant women.
Our office has a kids' play area, so your children aren't bored while waiting for you or your siblings to be adjusted. We have a sky-blue wall that you see upon entering our office, which is a color that facilitates calm and healing, and there are large windows that let in a lot of natural light for an airy, relaxing feeling.
MEET THE TEAM

Get Back to Doing What You Love
Whether you're a weekend warrior or simply want to get back to enjoying days with your family again, we're here for you. At Summit Spine and Sport Chiropractic , we see chiropractic care as a way to help you feel better for life–not just for the moment. While it's our goal to help patients of all ages and stages of life feel better and express their true health potential, we also want to give you the tools you need to maintain your desired level of wellness and feel great for years to come.
In the past, we've proudly welcomed patients who have specific goals they want to achieve, like those who may be training for a marathon or event, as well as invidious who simply want to get out of nagging pain they've dealt with for years. Whatever your goals are, we have the tools necessary to help you achieve them. Here, you can unlock your true health potential naturally through carefully crafted and gentle chiropractic adjustments and more.
Sports Certifications
Caring for athletes of every age and skill level is rewarding to us. You don't have to be a pro to reap the benefits of sports chiropractic—any physical activity is enhanced with regular chiropractic care, which helps your body function optimally, recover faster and avoid future injuries.
Dr. Arritt is an Internationally Certified Chiropractic Sports Physician (ICCSP) and Dr. Thompson is Internationally Certified in Sports Chiropractic (ISCS), and both have extensive education and experience working with athletes to treat injury and optimize performance.
Now Providing Auto Accident & PI Care
If you experienced an auto accident or work-related injury, we offer auto accident & PI care in our Rexburg location. We are here to help you get out of pain and recover from your injuries. As it's crucial to seek care immediately, call today to book an appointment!
Get Care for Your Family
We make it convenient to get care for your family. We accept most insurance plans and usually accommodate same-day appointments. We offer on-site X-rays.
Contact us today to book an appointment for yourself or your family.

Chiropractor Rexburg ID | (208) 881-5525