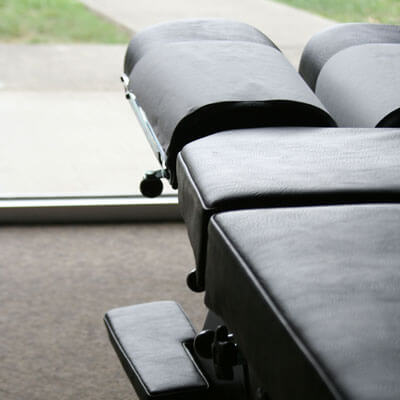 When visiting any doctor for the first time, it is common to have questions and even concerns about the experience circulating through your mind. You might be wondering about things like:
Do adjustments hurt?
Will the doctor perform an exam?
How long will the visit be?
Do I need an X-ray?
Do they take my insurance?
How much will it cost?
We want you to know what to expect from your first visit to Summit Spine and Sport Chiropractic and hopefully address some of these questions. Here's what a new patient should be ready for.
Your First Visit
Let's start with how long the first visit will be. Typically, the first day will last between 45 minutes to an hour if you complete the initial intake paperwork online prior to the visit. If you'd rather complete the intake at the appointment, then the first day will last between an hour to an hour and fifteen minutes. In this time, the paperwork and any insurance benefits will be completed or verified, you'll watch a new patient welcome video, and then, there will be an examination by the Doctor. Lastly, a patient may have treatment or therapy to finish the session.
The Exam
Your doctor will get to know you and ask you questions about yourself, your pain or complaint, and what your goals are in seeking treatment. We will record your range of motion and evaluate your spinal mobility and any other area in question. Then, our chiropractors will use palpation, functional movement tests, mobility and stability assessments, any necessary neurologic exams, orthopedic testing and more to determine the source of your complaints.
If necessary, it's time for x-rays. If there is no history of injury, trauma, or red flags, x-rays may not be needed. Under the right circumstances, an x-ray is an amazing tool that the doctor uses to check for any underlying issues that may be contributing to your condition. This is dependent on your personal history and exam. If there are any red flags or a history of an injury or trauma, an x-ray evaluation will be completed before any treatment will be administered.
Insurance Benefit Review and Treatment Time
Now it is time to begin the journey to destination wellness. With the exam done, the doctor will briefly summarize their findings and explain the plan for the first day's treatment and answer any questions you have. Before administering care, one of our wonderful CA's will come and review your verified insurance benefits, our financial policy, and the cost of care.
Now it's time to get adjusted. The doctor will take you to the treatment room and get you adjusted, taking you through any needed therapy or exercises. Your doctor knows that this is the moment you have been waiting for, and we greatly appreciate your patience as we evaluated you to determine what is causing your pain and prepared the appropriate steps to help you heal, prevent, and perform optimally.
Treatment typically starts with spinal adjustments and then any needed therapy. Sometimes, these adjustments are all you need, and more often there is a component of your pain that needs the addition of another therapy following your adjustment. These therapies include soft tissue manipulation like Graston IASTM, muscle manipulation/stretching, Ultrasound or E-stim, deep tissue lasering, traction/decompression and more!
Schedule Your Visit
We want you to feel as comfortable as possible during this experience and will make every effort to provide you with WOW service. We hope this blog post has answered any questions, calmed fears, and helped you know what to expect from your first visit.
If you have any questions while at the office never hesitate to ask! Our team at Summit Spine and Sport Chiropractic is dedicated to helping heal, prevent, and get you to perform at your best.
For more info, call us to book a visit or ask any questions you have.
CONTACT US »